We bought Thiemanns Farm in April 2011 and have since repaired and reconstructed it both in accordance with monument regulations and according to today's modern standards.
Milestones of the renovation
Roof renovation
The roof, which had numerous holes and structural damage, is being renovated and reinforced.
Sewer
The sewer pipes in the house are being laid.
Bottom plate
After the clay floor and in some areas also old concrete floor had been removed and the sewer pipes had been laid, the new concrete bottom plate can be poured in several steps. This is the only area where concrete is being used.
Bake house
The bake house next to the farm is being reconstructed.
Insulation
Floors, ceilings and walls are being insulated. For the ground level floors we are using a 15 cm layer of expanded insulating cork in those rooms that will have a stone floor. The rooms that will have a wooden floor are being insulated with 20 cm of cellulose. The exterior walls are getting 16 cm of cellulose insulation.
Water pipes
With the insulation in place the cold and hot water pipes can now be installed.
Ground collector
In the meadow next to the house we are laying a 550 m2 (5920 square foot) ground collector for the heat pump.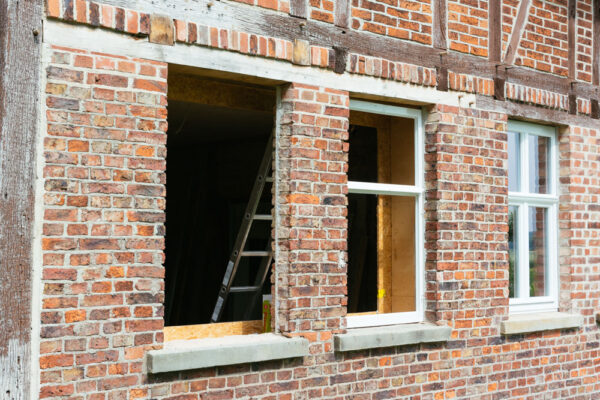 Windows and doors
The new windows and doors with thermal insulation glass are ready and are being installed.
Underfloor heating
The underfloor heating pipes are being laid.
Glass wall in hall
To make the large central hall habitable a large glass wall with thermal insulation glass is being installed behind the great door at the gable.
Waste water connection
For the first time in its history, the farm is being connected to the municipal sewage system.
Sandstone floor
In the central hall ('Deele'), the floor is made of sandstone slabs. We used locally sourced Obernkirchen sandstone from the neighboring town Bückeburg for this.
Heating
The heat pump is being installed and the house can finally be heated this winter.
Stairs
The new stairs to the first floor and to the attic are ready and will be installed.
Wooden floor
On the ground floor, the wooden floor is laid in the side rooms where there are no tiles. There is a layer of 20 cm cellulose insulation under the wooden floor.
Interior work
The rooms on the ground floor are being finished step by step, room by room.